Kyran Quinlan, M.D., M.P.H.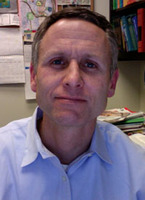 Principal Investigator, Injury Free Coalition for Kids of Chicago (Lurie Children's)
Dr. Kyran Quinlan is a general pediatrician who chairs the executive committee of the American Academy of Pediatrics Council on Injury Violence and Poison Prevention. He trained in child injury epidemiology and prevention at the Centers for Disease Control and Prevention's National Center for Injury Prevention and Control. His published works include a study showing that the majority of child passengers killed by drinking drivers die while riding in the same vehicle with them. He has published numerous studies on child safety and has been successful in helping to protect children through community advocacy efforts. He received an MD from Loyola University in Chicago, completed his pediatric residency training at the University of Chicago, and received a Masters in Public Health at the University of Illinois at Chicago. He recently completed two years as a Physician Advocacy Fellow of the Center on Medicine as a Profession working on child pedestrian safety in low-income areas on the south side of Chicago. He practices general pediatrics at Erie Family Health Center and is an Associate Professor of Clinical Pediatrics at the Feinberg School of Medicine at Northwestern University.