Description
Background
Falls are the number one severe injury sustained by children from 0-19 years in Washington Heights, and they are second only to firearms in causing injury fatalities.(1)
Pedestrian injuries are also among the five most common severe injuries. One way to protect children from these severe injuries is to provide them a safe place to play, where a fall will not likely result in a hospitalization, and which provides an alternative to playing in the street. Because of budget cuts and major capital improvements to some buildings in high need, New York City's Board of Education has been unable to provide schools funding to renovate old, unsafe play spaces. Furthermore, a space shortage has in the past made it difficult for schools to install play equipment. In some cases, this has forced a school to use a local park as its school yard, even though the park's location across city streets and avenues, safety features, and maintenance the school does not control. In other cases, children have nothing more than a small, open asphalted area in which to play during recess.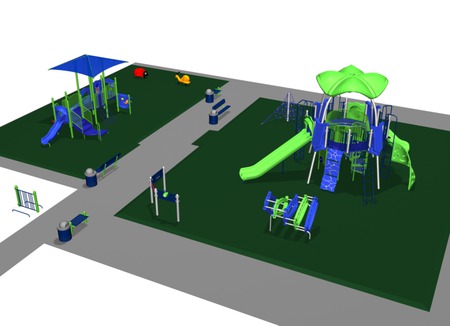 We have worked closely with Vanessa Martelli of Universal Play Systems, Inc., and elementary schools to assess their playground usage and available space, and has offered technical assistance to provide schools with a safe playground that matches their needs, even in small spaces. In addition, with the inauguration of each playground, school staff and students alike receive a special presentation on playground safety, and how to use their particular equipment as safely as possible. Playground construction is an ongoing project that heightens injury prevention awareness, involves the community, and, most importantly, provides school children a safe place to play off the street.
(1)M. Durkin, Northern Manhattan Injury Surveillance System Data, 2001.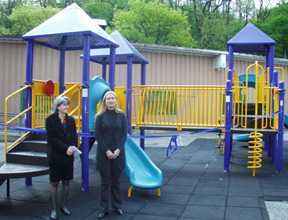 Inaugurated Playgrounds
PS152M April 30, 2002
PS187M March 6, 2002
Playgrounds Inaugurated in 2005
PS 178 Children's Village
PS 28
PS 128
PS 178
IS 164 (play area renovation)
We continue to look for funding and opportunities to work with our community leaders to build safe play areas for the children of Washington Heights/Inwood.
Contact Information