Michael Hirsh, M.D.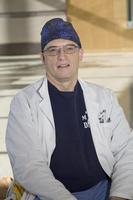 Co-Director, Injury Free Coalition for Kids, Worcester, MA, Injury Free Coalition for Kids of Worcester, MA
Michael Hirsh is Division Chief of Pediatric Surgery and Trauma at UMass Memorial Children's Medical Center and Associate Surgical Director of the Trauma Center and Pediatric Intensive Care Unit. He formerly served as Principal Investigator of Injury Free Pittsburgh from 1993-2000. His experience is in developing and applying innovative interventions to prevent pediatric injury. As co-director of Injury-Free Pittsburgh, Dr. Hirsh created Health Rangers, a mentoring program which pairs potentially at-risk middle school children with mentors at local hospitals. He is also a co-founder of Goods for Guns, a firearms exchange program. Dr. Hirsh also designed and brought Safety Street to the Pittsburgh Children's Museum, a life-size, outdoor exhibit designed to teach children the fundamentals of street safety.
Publications include: Hirsh MP: Public Approach to Violence (Physician's News Digest June 1997); and Masiello, M, Friend, J, Hirsh MP, Synder K: Pittsburgh Goods for Guns Antiviolence Coalition: A Successful Four Year Expanded Gun Buy-Back Program (Pediatrics, Abstracts for Section Scientific Presentations at AAP 1998 Annual Meeting). Dr. Hirsh received his MD from Harvard University in 1979, completed surgical residency at Columbia-Presbyterian Medical Center, and Fellowship training in the Department of Pediatric and Transplant Surgery at St. Christopher's Hospital for Children in Philadelphia. Dr. Hirsh has won numerous public service and teaching awards, and is board certified in General Surgery, Pediatric Surgery and Critical Care.
Contact Information
Email Address:
michael.hirsh@umassmemorial.org
Phone Number:
774-773-2189
Mailing Address:
UMMHC, Pediatric Surgery
55 Lake Avenue North
Rm. H5-523
Worcester, Massachusetts 01655