Programs
---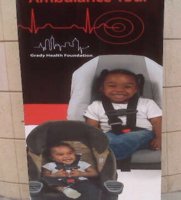 Download Car Seat Rx forms:
The Injury Free Coalition for Kids - Atlanta site is a coalition of institutions and organizations dedicated to preventing childhood injuries. The coalition members include: Grady Health System and its affiliate hospital's and clinics, Fulton County Health Department, Departments of Pediatrics and Pediatric Surgery of Emory University School of Medicine, Department of Pediatrics of Morehouse School of Medicine, Atlanta Public Schools, Atlanta Housing Authority Community, Allstate Foundation Southeast Regional Office, CDC - Center for Injury Prevention and its key partner Atlanta Fire & Rescue.
The program is funded by the Governors Office of Highway Safety. The program is based out of the Grady Health System (GHS). The Grady Health System is operated by the Fulton Dekalb Hospital Authority for the care of the indigent patients of those two counties however our program's serve caregiver's throughout the State of Georgia. The population served by Grady Health Systemis largely minority (over 90% African-American) and indigent (approximately 75% insured by Medicaid). Approximately 60,000 emergency room visits are made to HSCH each year, as well as over 10,000 appointment visits to primary and subspecialty clinics. The Grady Memorial Hospital (GMH) of GHS has the only a Level 1 trauma center in the region.
The Injury Free Coalition for Kids-Atlanta's primary objective is to reduce the number of injuries among our pediatric population. This objective is accomplished by the development and delivery of community and hospital based interventions, prevention programs, and research. Our outreach and safety promotion efforts through our community and hospital based intervention and prevention programs are carried out through the following major initiatives:
Home Safety: Baby Safety Shower & Safety House Program

Car Seat Distribution and Instruction (Watch the video)

Occupant Safety Certification Training
Atlanta Directors
Contact Info
Ana Everett, MPA, PhD Cand.
Injury Free Coalition for Kids of Atlanta
Emory School of Medicine: Department of Pediatrics
49 Jessie Hill Jr. Drive
Box 26020
Atlanta, Georgia 30303
404-616-1403
aevere3@emory.edu
Atlanta News
Events
There are currently no events listed for Atlanta.