Focusing education and advocacy efforts on keeping children in properly installed car seats and booster seats until 60 lbs. is paramount. The Safe Kids Coalition has become the primary resource in San Diego County to train and certify child passenger safety technicians, and to conduct consumer inspections and installations and the Injury Free Coalition partners with Safe Kids on child safety initiatives. In 2004 Safe Kids received a specially outfitted van through the National Safe Kids program and sponsored by Chevrolet, trained 43 technicians, conducted a total of 284 child safety seat inspections, and distributed 94 car seats/booster seats.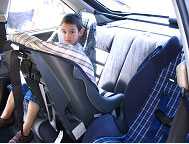 Through Safety First, a program with San Diego County Health and Human Services Agency through funding from the Office of Transportation Safety, low-income families are referred by Public Health nurses and other providers and invited to participate in a child passenger safety class, then they have their child safety seats inspected and if needed receive a new child safety seat that is correctly installed by our technicians. Our certified child passenger safety technicians conducted 49 classes with 292 participants, distributing 458 child safety/booster seats through this program. Safe Kids also partnered on the child passenger safety component for the CalWORKs initiative, distributing and fitting 574 child safety seats/booster seats.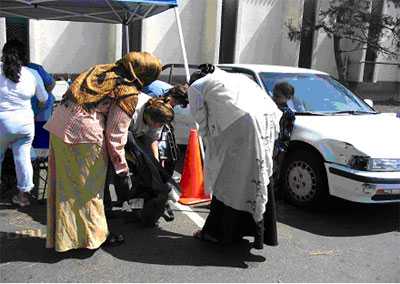 Kohl's Family Safety Days feature monthly "Safety Fairs" at this large retail store including car seat check ups, and childhood injury risk assessments, along with safety product information and demonstrations.
Rady Children's Hospital is one of 10 Hospital's nationwide to Get on Board with Safety, a new partnership in 2006 with the Dorel Juvenile Group and the National Association of Children's Hospital's and Related Institutions (NACHRI) aimed at educating parents about safety in the home and car seat safety and distributing home safety products and car seats. With a focus on the North Inland area of San Diego County, one component of our program targets low-income families identified and referred through home visits by Public Health nurses. These families receive home safety education, products, and referrals to car seat classes and car seat checks, low cost car seats and no cost car seat installation.