Community Built Playgrounds
Childhood Injury Prevention Center (CIPC) of the Los Angeles Biomedical Research Institute at Harbor-UCLA Medical Center
In 2003 our Center completed its second community built playground at Fries Avenue Elementary School in Wilmington, CA. This "Little Hands" playground was primarily funded by the Allstate Foundation, with additional support provided by Valero Refinery. Over 80 volunteers from our Center, the national Injury Free office, Allstate Foundation, Valero Refinery, Beacon House Association and the local community came together to install this new play system.
Our first playground at Hawaiian Avenue Elementary School in Wilmington was completed in 1998. The staff at the school acquired the funding for this project from the Ann and Kirk Douglas Foundation. Our staff, along with a non-profit environmental group called Tree People, planted trees on the school campus and the playground. Over 100 community members joined them in planting the trees and celebrating installation of the new playground. Here, Kirk Douglas dedicates the new playground.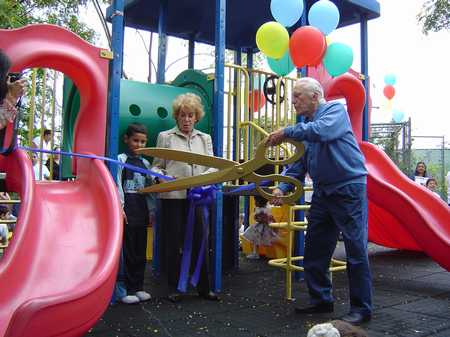 The following photographs are from our community build at Fries Avenue Elementary School.