The New York-Presbyterian, Morgan Stanley Children's Hospital hosted a Musical Theater Traffic Safety Show, The Apple Corps, sponsored by The New York City Department of Transportation, Office of Safety Education and Outreach on Monday April 29th, 2019.
During the show, using a series of vignettes, children were taught to make safe choices when crossing streets, bicycling, skateboarding, rollerblading, riding scooters and using safety belts. The show "empowers children to help themselves and others be safe street users and prevent injuries".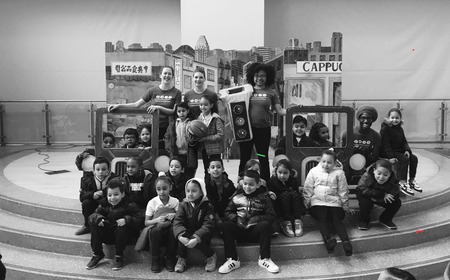 Two interactive musical traffic safety theater shows were attended by approximately 500 neighborhood school children (kindergarten to third grade), their teachers and some parents from the Washington Heights neighborhood. (450 students and 45 teachers for a Total of 495 attendees) were welcomed to the hospital lobby for an interactive, educational experience in the hospital lobby of the Morgan Stanley Children's Hospital on April 29th.