The Healthy Home Partnership - Rochester's Healthy Home
In 2006, The University of Rochester's Environmental Health Sciences Center outreach program along with the Southwest Area Neighborhood Association (SWAN) and the Rochester Fatherhood Resource Initiative (RFRI) created a demonstration home, Rochester's Healthy Home.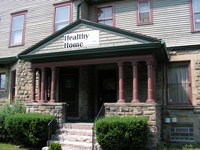 Its purpose was to provide property owners, contractors, residents and professionals with hands-on demonstrations of various low-cost methods for reducing hazards in the home, as well as educating them about the health impacts of these hazards and providing resources and information for addressing the hazards in their own homes. Hazards included lead poisoning, asthma triggers, molds, household chemicals, and faulty furnace or heaters and safety. As an advisory council member, IFCKR was asked to include information on educating participants about injury prevention in the home. We developed a "hands on" display to provide families with information on how to keep their children safe.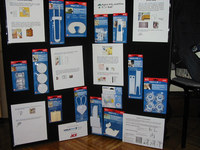 Unlike many mobile safety units, the Healthy Home was a permanent display with regular visiting hours. Each room included information on various topics specific to the room. For example, in the kitchen we would have information on the proper storage of sharp objects and cleaning supplies, while in the bedroom we addressed safe sleeping practices and window safety. In December 2009, its doors were closed, but the education and outreach is continued through the Healthy Homes Partnership. This partnership comprises over thirty organizations that provide a wide range of services, but are all connected through their common interest in healthy, safe housing. Its mission is to ensure that information and resources relating to community health remain readily available for area residents.
For information on Rochester's Healthy Home or Healthy Home Partnership, please visit the following link: http://www2.envmed.rochester.edu/envmed/EHSC/outreach/CommunityPartners/HealthyHomes.html