The smart teen driving program continues to provide opportunities for teens to create safe driving messages and participate in awareness activities; it also offers parents, health professionals, educators and government officials the chance to learn more about what they can do to help teens be smarter drivers and passengers. Past and current opportunities for teens include:
We are always looking for teens to create a peer to peer outreach program. In 2013, A1lison created the following poster to distribute in her school.
Don't Blank and Drive Poster 2013
Community outreach on smart teen driving includes several workshops that teens and/or parents can participate in.
Link to brochure: Smart Teen Driving Pamphlet
Truth & Consequences: The most popular program is a workshop brought to schools and community organizations. This program is designed to educate on how poor choices through distraction and inexperience can lead to tragic outcomes. Traffic safety specialists discuss risky driving behaviors, the physics of reaction and stopping times, current laws on graduated driver's licenses (GDL) and other alternatives to many peer-pressure related scenarios. Health care professionals discuss the physical effects of trauma on the body and the realities of a trauma resuscitation, hospitalization and rehabilitation.
Drive for Life: This 2 hour trauma workshop is the in hospital version of Truth & Consequences and is held several times throughout the year in the Emergency Department. This program gives teens a glimpse into what happens after a motor vehicle crash from a medical standpoint, beginning with a detailed crash simulation then a 911 call, to the trauma unit, to hospitalization and finally rehabilitation. The workshops have been very successful with positive reviews.
My Car Your Life: This program targets the almost-driver or "pre-driver". The movie The Fifth Quarter, is reviewed and stopped at various points and to discuss its impact. Our goal is to promote being a good passenger and to teach teens how they can have an impact on what happens in a car.
Rides for Life: Rides for Life was a drive in style car show that includes a teen drive-in style event that's part of the car-show (teens would bring their own wheels and show them off) and part safety fair (stations featured simulated roll-overs, impaired driving demonstrations, driving simulator and hazard obstacle courses). This event was held from 2006 to 2011.
Teen/Parent Driving Contract: A driving contract is available at all the Monroe County Department of Motor Vehicle Offices for parents and teens to review. It is also included in a teen packet that is distributed to all new teen drivers. This contract will help start the conversation as to how to be a smart driver.
Link to contract: Teen Parent Driving Contract
Young Roc Roadeo;
A collaboration between the University of Rochester Medical Center, Monroe County, the City of Rochester, Allstate and more was held on October 4th in the Frontier Field parking lot. Our goal was to educate new drivers on many of the most important elements of being a safe and responsible driver. This event included multiple stations, addressing topics such as: What to do if you are involved in a crash?, How to change a tire or your oil?, The dangers of distracted driving, Taking a pledge against texting and driving, State Police rollover simulator, An ambulance "open house", An opportunity to experience the view from a semi or rig, Sharing the road with cyclists and much more. There was also a battle of the belts - a seat belt competition/race between teams of teens. WPXY had a live broadcast.
Teen Advisory Boards:
Traffic Teens, the teen advisory board from 2009-2011, created a Facebook group called Traffic Teens. Their message was to remind everyone to wear a seatbelt along with educating about distracted driving. They also created several giveaways to promote their message. One was an awareness bracelet to remind people to wear seatbelts and the other was a bumper sticker/magnet. Even though the advisory board has ended we continue to provide the program/awareness materials as part of our program.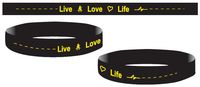 Link to image of magnet: Fashion Statement Magnet
The first teen advisory board in 2008 created a facebook group TEAM Awesome team stands for Texting Endangers All Motorists). They also helped design a window cling for their peers to be distributed throughout the county at places where teens meet. Link to image of window cling: Smart Teen Driving Window Cling
Sports Venue: We promote the smart teen driving message at our local AAA baseball field, Frontier Field. The fan zone, located just behind the outfield fence provides safety materials to the lucky visitors. A billboard above the fan zone area has a safety message all year long as well as game day announcements.
Frontier Field billboard link: 2013 Allstate Frontier Field Billboard
Picture of Frontier Field Fan Zone Billboard: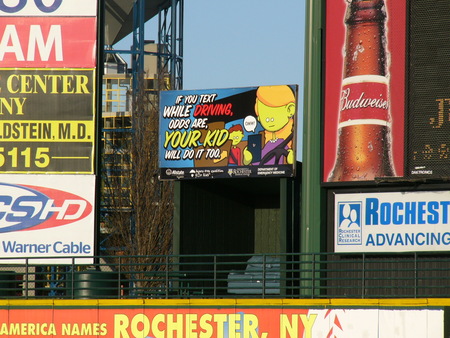 During the 2011-2012 school year, a teen from Webster Thomas High School chose teen smart driving as her senior project. She worked on our teen smart driving program as both an actor and with the concept for our awareness video and created a web ad shown here; http://bit.ly/IMqoSc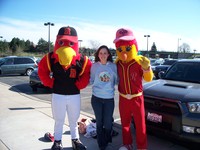 Poster contest: While a senior at Aquinas Institue, Kelley created the winning poster design for the smart teen driving poster contest. Her creation has been printed and is available for distribution.
For more information about this program please contact Karen Knauf at karen_knauf@urmc.rochester.edu
Contact Information
For more information on these events, contact Karen Knauf at Karen_Knauf@URMC.Rochester.edu.